In my wardrobe I really lacked a nice straight skirt with a classic cut (at least sewn by me 😉), not too mini to be easily worn at the office😊. Sandrine skirt by c'est moi le patron is mainly available in three versions, mini, with or without ruffles, or 47 cm long with a back slit. It also features side pockets and pentagonal-shaped rear patch pockets.
I opted for the 47cm length as I wanted to experiment with sewing a back slit for the first time. I didn't find it particularly complicated to make, just be careful in the pattern not to cut the lower part diagonally as indicated but in a rectangle (pink lines below).
It will be easier to assemble the skirt later. Also, in the instructions I have not found the indication to finish all the edges of the back of the skirt, before sewing the invisible zipper, which I recommend.
A step-by-step video is available here.
Personally, I didn't sew the back pockets because I wanted a really classic model.
For the fabric I opted for a beautiful blue Flannel Blue Rivière from Stragier that I love! For the bottoms of the side pockets, I used a 3-thread cotton poplin of the same color, also by Stragier.
The skirt does not have a lining but for the next time I think I will add it to have a more refined work.
Here the result!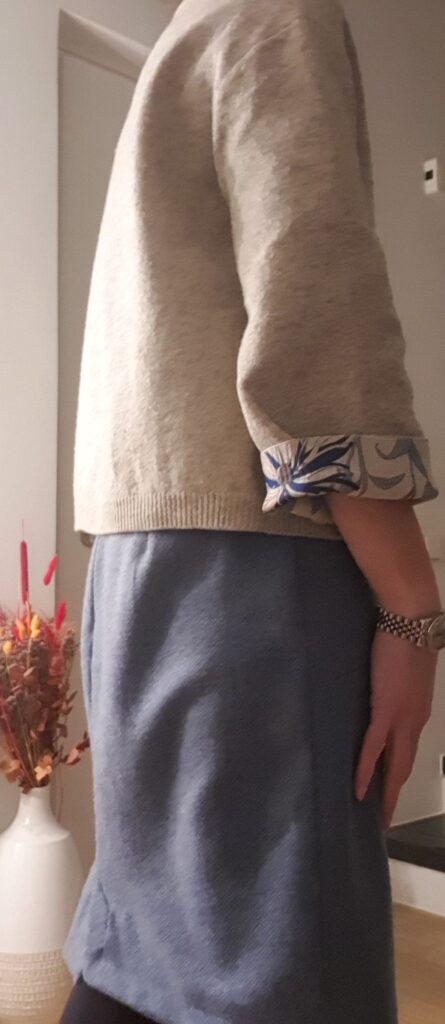 🍎 See you soon! 🍎